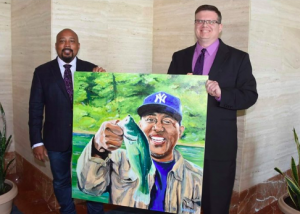 At Ohio's Heart, we are all about celebrating the good and positivity in our region.  We think there is so much to be excited about…so we want to shine a light on it!  We are also extremely proud of the many successful people that grew up in our region, and went onto success in other areas too!
So, we have a new series called "Raised in Ohio's Heart!"
Today we start that series with Tony Seegers.  Tony grew up in Coshocton County and is not only the Director of State Policy at the Ohio Farm Bureau Federation, but he is also a talented and accomplished painter.  In this piece, we hear directly from Tony what it was like to grow up in the region…and how it shaped him.
Tell me how you got into painting?  Was that something you did when you were here? 
I had always had a knack for drawing.  When I was in 6th grade I had the opportunity to take private art lessons from a sister of my mom's co-worker.  I learned to draw in charcoal pencil.  Then in high school I had the opportunity to take private art lessons with another artist in Coshocton where I learned to watercolor.  I painted in college a bit.  I took it back up in law school when I taught myself oils.  Several years ago I moved to acrylics.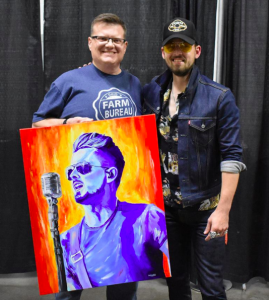 What is your favorite part about painting?
I think my favorite part is just the relaxation. It is a time where I zone out and there isn't a care in my mind.  I only focus on my painting.
Is there a favorite thing about your town, where you grew up?
I love Coshocton.  I think it was all my friends like you and everyone we graduated with.  I love the fair and the cool weather and the changing leaves.  It was a great place to grow up.  It was Americana.
What is a lesson you took from your community?
I think the lesson I learned from Coshocton and my parents is to be as humble as possible and work hard.  If you work hard, good things follow.
When you come back to visit where is your first place you want to go?
Since my parents passed I don't visit much.  When my dad was alive I loved to go to the Elks with him.
How do you think growing up in this region helped set you up for success?
What my parents taught me, hard work, be humble, stand up for yourself and others and be myself and try to treat others as you would want to be treated.  I was always told I can do whatever I put my mind to.
Thanks for reading "Raised in Ohio's Heart!"  You can find more information about Tony and his painting on Facebook and Instagram at Painted By Tony."