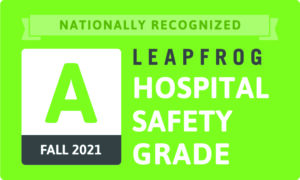 Coshocton, Ohio (November 11, 2021) — Coshocton Regional Medical Center received an "A" grade in the Fall 2021 Leapfrog Hospital Safety Grade, a national distinction recognizing Coshocton Regional Medical Center's achievements in protecting patients from errors, injuries, accidents, and infections.
"An 'A' Safety Grade is a tremendous achievement, of which our community and staff should be extremely proud," said Stephanie Conn, Chief Executive Officer. "I thank each of our team members for their commitment to prioritizing patients and their safety, especially during these trying times."
Coshocton Regional Medical Center, a Fortune and IBM Watson Health Top 100 Hospital, adds this achievement to their recent Healthgrades Patient Safety Excellence Award in addition to being named among the Top 10% in the Nation for Patient Safety for 2 years in a row.
The Leapfrog Group, an independent national watchdog organization, assigns an "A," "B," "C," "D," or "F" grade to general hospitals across the country based on over thirty national performance measures reflecting errors, injuries, accidents, and infections, as well as systems hospitals have in place to prevent harm. The Leapfrog Hospital Safety Grade is the only hospital rating program based exclusively on hospital prevention of medical errors and harms to patients. The grading system is peer-reviewed, fully transparent, and free to the public. Grades are updated twice annually, in the fall and spring.
To see Coshocton Regional Medical Center's full grade details and to access patient tips for staying safe in the hospital, visit HospitalSafetyGrade.org and follow The Leapfrog Group on Twitter and Facebook.
Coshocton Regional Medical Center is a 56-bed, not-for-profit hospital, providing 24-hour emergency and acute care services, with a network of hospital-based physician clinics serving Coshocton, Ohio, and surrounding counties, and is an Accredited Chest Pain and Heart Failure Center. Coshocton Regional Medical Center has earned The Joint Commission's Gold Seal of Approval® for accreditation by demonstrating compliance with national standards for health care quality and safety in hospitals and holds as its mission the delivery of compassionate, quality care to patients and better healthcare to communities. Coshocton Regional Medical Center is a member of Prime Healthcare Foundation and serves the Eastern Central Ohio Region with high-quality diagnostic, rehabilitation, and acute healthcare services. For more information, please visit www.coshoctonhospital.org.