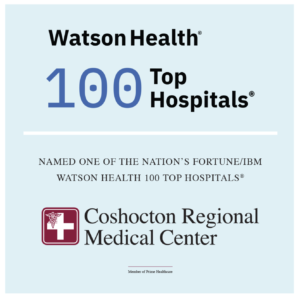 Coshocton, Ohio (April 27, 2021) — Coshocton Regional Medical Center has been proudly recognized as a 2021 Top 100 Hospital in the Nation by Fortune and IBM Watson Health. In the annual list published by Fortune, Top 100 Hospital recipients showcase excellence in clinical outcomes, operational efficiency, patient experience, and financial health.
"I cannot even begin to express how proud I am of our staff members who continuously place patient care first", said CEO, Stephanie Conn.
"We are here to serve our patients and deliver the best patient experience possible. This award confirms our hard work and commitment to that vision. To have your home-town hospital named as a Top 100 Hospital speaks volumes of the care the community can receive right here in Coshocton."
This recognition demonstrates Coshocton Regional Medical Center's ongoing commitment to prioritizing patient-centered care. According to IBM Watson Health, as compared to similar hospitals, the hospitals included on the Fortune/IBM Watson Health 100 Top Hospitals list had better results on key clinical and operational performance indicators. These include survival rates, patient complications, healthcare-associated infections, 30-day mortality and 30-day hospital-wide readmission rates, length of stay, throughput in emergency departments, inpatient expenses, profitability, and ratings from patients.
For more information, visit http://www.100tophospitals.com/.
Coshocton Regional Medical Center is a 56-bed, not-for-profit hospital, providing 24-hour emergency and acute care services, with a network of hospital-based physician clinics serving Coshocton, Ohio, and surrounding counties, and is an Accredited Chest Pain and Heart Failure Center. Coshocton Regional Medical Center has earned The Joint Commission's Gold Seal of Approval® for accreditation by demonstrating compliance with national standards for health care quality and safety in hospitals and holds as its mission the delivery of compassionate, quality care to patients and better healthcare to communities. Coshocton Regional Medical Center is a member of Prime Healthcare Foundation and serves the Eastern Central Ohio Region with high-quality diagnostic, rehabilitation, urgent care, and acute healthcare services. For more information, please visit www.coshoctonhospital.org.