Coshocton, Ohio (September 21, 2021) — Coshocton Regional Medical Center is excited to announce partnerships with area school districts to provide Athletic Training Services. River View, Coshocton, and Newcomerstown Schools have each partnered with CRMC to provide their athletic departments with a full-time Athletic Trainer year-round.
Allison Cramer, ATC, has joined the program as the Certified Athletic Trainer for River View Athletics.
"It means so much to me to have this opportunity to come back to what I have always called my home and give this community something they have been without for several years," says Cramer. "I am looking forward to educating and helping student-athletes become faster, stronger, tougher, and able to help athletes play as long as they can. You only get one body in life, so it is best if we take care of it in the best ways that we can."
Certified Athletic Trainer Megan Devol will be caring for athletes at Newcomerstown Trojan games.
"From the first time I visited the Newcomerstown area I enjoyed the familiarity of being in a small town and appreciated the genuine relationships between the administration of Newcomerstown High School. I could tell this was a school that cared for its students and employees and was something that I wanted to be a part of. I am very excited to be able to help make a positive impact in the community and be a Trojan!"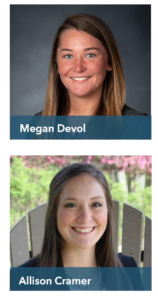 The addition of this program will aid local sports programs with the overall health of their athletes. "Our primary goal is to ensure student-athletes stay healthy all season and all school year long," says Todd Dawson Director of Outpatient Therapy Services at Coshocton Regional Medical Center. "Our hope is to grow this program so that we can expand services to all local school districts and athletes."
A certified athletic trainer is still being identified for Coshocton athletics. Qualified candidates can submit their resume online at coshoctonhospital.org/join-our-team/ or contact Kaylee Andrews at [email protected].
Coshocton Regional Medical Center is a 56-bed, not-for-profit hospital, providing 24-hour emergency and acute care services, with a network of hospital-based physician clinics serving Coshocton, Ohio, and surrounding counties, and is an Accredited Chest Pain and Heart Failure Center. Coshocton Regional Medical Center has earned The Joint Commission's Gold Seal of Approval® for accreditation by demonstrating compliance with national standards for health care quality and safety in hospitals and holds as its mission the delivery of compassionate, quality care to patients and better healthcare to communities. Coshocton Regional Medical Center is a member of Prime Healthcare Foundation and serves the Eastern Central Ohio Region with high-quality diagnostic, rehabilitation, and acute healthcare services. For more information, please visit www.coshoctonhospital.org.