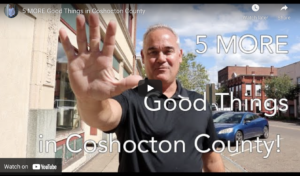 Kirby Hasseman is an entrepreneur and content creator in Coshocton County.  He owns (with his wife, Amy) Hasseman Marketing and Hasseman Properties.  And you can say he is a bit of an optimist about his community.
A few months ago he created a Youtube video called 7 Good Things Happening in Coshocton County.  The idea was simple, there seemed to be some positive momentum in the community and he wanted to capture them…and put them in one place.
That video was well-received…so he decided to create a new one.
The new video is called 5 MORE Good Things in Coshocton County and we wanted to feature it here.
Hasseman pointed out that his list was incomplete.  But here are the 5 he mentioned in this 4-minute video.
MFM Building Products
MFM Building products is doing a large expansion in Coshocton County.  We actually featured a drone video about the expansion here.  As Hasseman points out in the video, this expansion means investment in the community and more jobs.
Jenny Penny's Opens
Investment in the infrastructure of downtown is important, but you need small businesses to keep the downtown alive.  Hasseman points out that Jenny Penny's is a new business and we need to support it.
Huck's Tavern Opens in Roscoe Village
And speaking of new businesses opening, we talked about Huck's opening last week.  Huck's Tavern is a new establishment in Roscoe Village with a menu of great bar food and drinks.  So it seems to us, this vlog gives you a place to start your day and end your day in Coshocton County!
Career Center Growing
According to the video, Hasseman points out that (in Coshocton County) nearly 48% of Juniors are attending the Career Center this year.  This symbolizes a new generation of skilled workers that will be able to fill jobs and do important work in the community.
Coshocton Collaborative
The final positive that Hasseman points out is the purchase of the former Pastime Theater by the Coshocton County Port Authority.  This new project represents a huge investment in Main Street in Coshocton, and also in future entrepreneurship.  The Port Authority has a plan to renovate the facility that has sat empty for nearly 20 years and rename the building the Coshocton Collaborative.  We talked a bit about this project here….and we will have more updates on this project as it moves forward.
Hasseman is the owner of Hasseman Marketing and you can find his Youtube channel here (if you want to subscribe).  And if you want to learn more about Coshocton County (and schedule a visit), head to ChooseCoshocton.com now.