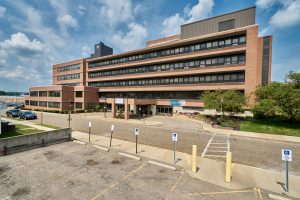 Coshocton, Ohio (August 17, 2020) — Coshocton Regional Medical Center is excited to announce the opening of Urgent Care in early September. The new clinic will be located at 406 S. 15th St. Suite 2 in Coshocton. Urgent Care will specialize in low-cost walk-in visits 7 days-a-week with extended hours.
"There is a need in this community for care after hours and on weekends." says CEO, Stephanie Conn. "Urgent Care will provide patients another option for services that may not require a trip to the emergency room. We are very excited to provide the Coshocton community with this new option that is more flexible for patients' schedules."
Coshocton Regional Medical Center's Urgent Care will be able to care for patients after hours and on weekends when their doctor's office is closed, providing a low-cost option for individuals that need to be seen by a medical provider and cannot wait until the next day or over a weekend. The clinic will also create an option for individuals to seek care that do not have an established primary care provider. Urgent Care will provide a variety of services for patients with general illnesses and injuries, including on-site X-ray for breaks or fractures and on-site EKG's. Results of on-site X-rays and EKG's will be interpreted during the patient's visit and a plan of care will be identified immediately.
Coshocton Urgent Care will be located at 406 South 15th Street Suite 2, Coshocton across from Coshocton Regional Medical Center, and will be open Monday through Friday from 10 a.m. – 8 p.m. and on Saturday and Sunday from Noon- 4 p.m. No appointments will be necessary. The clinic can be reached at (740) 623-4440.
Coshocton Regional Medical Center is a 56-bed, not-for-profit hospital, providing 24-hour emergency and acute care services, with a network of hospital-based physician clinics serving Coshocton, Ohio and surrounding counties, and is an Accredited Chest Pain and Heart Failure Center. Coshocton Regional Medical Center has earned The Joint Commission's Gold Seal of Approval® for accreditation by demonstrating compliance with national standards for health care quality and safety in hospitals, and holds as its mission the delivery of compassionate, quality care to patients and better healthcare to communities. Coshocton Regional Medical Center is a member of Prime Healthcare Foundation and serves the Eastern Central Ohio Region with high quality diagnostic, rehabilitation and acute healthcare services. For more information, please visit www.coshoctonhospital.org.