Coshocton Regional Medical Center Announces New Orthopedic Surgeon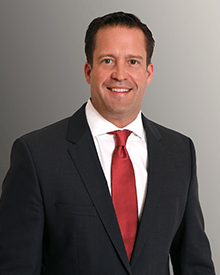 Coshocton, Ohio (January, 2019) – Coshocton Regional Medical Center is excited to announce that Brad Bernacki, MD Orthopedic Surgeon will now be seeing patients in Coshocton County. Dr. Bernacki's practice will be located at the 311 Medical Building across from Coshocton Regional Medical Center where he will be performing surgery.

"We are very excited to have a surgeon of Dr. Bernacki's talent to serve the people of Coshocton County," says CRMC CEO Stephanie Conn. "Dr. Bernacki will be a welcome addition to the Coshocton Regional Medical Team."

Dr. Bernacki is board certified in general orthopedic surgery and is a fellow of the American Academy of Orthopedic Surgeons (AAOS). He served as chairman in the department of surgery at the Medical Center of Newark from 2009-2010.

Dr. Bernacki performs many types of joint replacements including total hip arthroplasty, total knee arthroplasty, and primary shoulder replacement. Dr. Bernacki specializes in care where you need it for example; ankle, back, elbow, foot, hand, hip, knee, back, orthopedic trauma, etc. Dr. Bernacki is scheduling appointments in Coshocton for area residents now. To schedule your appointment call 740-788-9220.
###
About Coshocton Regional Medical Center: Coshocton Regional Medical Center is a 56-bed not-for-profit hospital in Coshocton, Ohio, providing 24-hour emergency and acute care services with a network of hospital-based physician clinics serving Coshocton and surrounding counties. Coshocton Regional Medical Center has earned The Joint Commission's Gold Seal of Approval® for accreditation by demonstrating compliance with national standards for health care quality and safety in hospitals, and holds as its mission the delivery of compassionate, quality care to patients and better healthcare to communities. Coshocton Regional Medical Center is a member of Prime Healthcare Foundation and serves the Eastern Central Ohio Region with high quality diagnostic, rehabilitation and acute healthcare services. For more information, please visit www.coshoctonhospital.org.