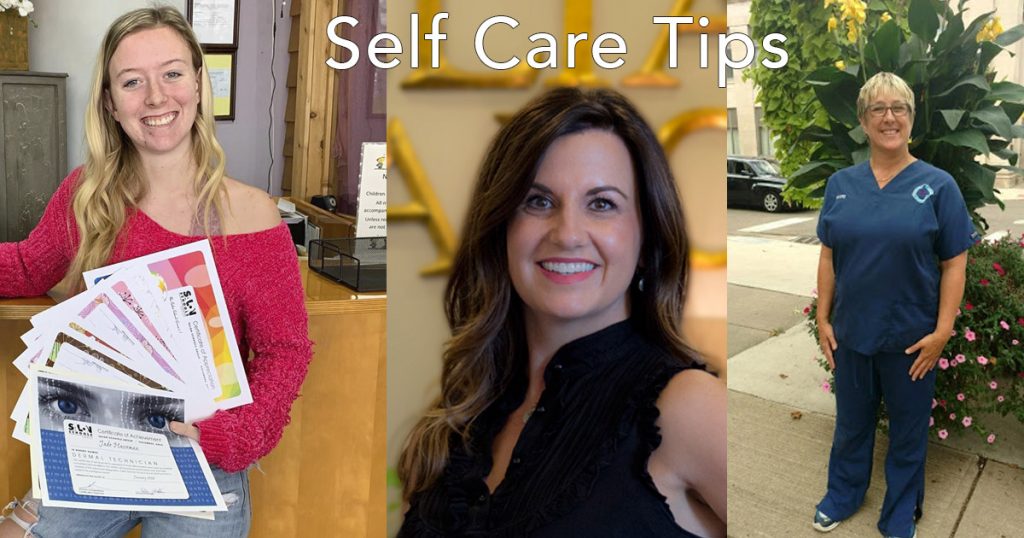 In reality it's been about a month ago when Salons and other similar businesses were shut down in Ohio..  But to many of us it feels like it's been 6 months.  Our hair is unruly. Our nails are a struggle.  And our skin is not getting the proper care either.  In order to help, we talked to three local experts on how to provide Self Care while in Quarantine.
Hair Care is Not DIY
We reached out to Janelle Give, owner of Jillians Salon in Coshocton for some tips on both coloring and cutting hair at home.  She recommended being patient, and waiting a bit longer on the professionals.
Hair coloring– DO NOT box color your hair! Wait for your stylist, or contact them for help. Your stylist is a professional! They are the experts! Here are some reasons why….
It's damaging! There are a lot of chemicals found in boxed dyes, which can lead to an allergic reaction, dryness, and breakage. Cheaper isn't always better!
End results may be different! The actual color may not be exactly what you wanted and is not 100% guaranteed to look like the picture on the box. Your stylist customizes your formula for your individual needs. Not all hair is the same, so it's always better to be safe than sorry. One size does not fit all!
You will be paying $100 plus for a color correction! It's more affordable to wait for your stylist!
Hair cutting tips!
Put the scissors down! Bang trims are necessary, but remember, this too shall pass 🙂 think of maybe a new style as your length and layers grow out! For men if in dire need, have your wife trim up your neckline and if you really trust her, have her use a longer clipper card to shorten up those sides.
If you want more tips on Hair Care, or you want to book an appointment for when this lifts, you can head to the Jillian's website here or email Janelle at:  [email protected]
Relaxing Techniques for Quarantine
It seems like we are more stressed than ever.  With all of the changes, financial stresses, and time trapped inside, it makes sense.  But without the help of massage, how do you relax?  We reached out to Kristy Turner Miller from Alternative Therapies and Massage on Main Street in Coshocton for some techniques.
"One technique is quickly tapping, patting, and brushing over the body with a quick motion.  Start at the scalp, face, down each arm, chest, back, shoulders, and legs.  It is also good to rub your kidneys with the backs of your knuckles.  This can be stimulating so these techniques should not be done at night or before sleeping.
Another technique is kneading or squeezing the muscles. If you find a tender spot you can pause and apply gentle pressure.  It should melt away like an ice cube does in water and disappear.  Start at the head and neck.  Then gently pinch the shoulders hold this for a count of ten. Then allow your shoulders to get soft and heavy. Repeat this three times.  Continue doing each arm, wrist, sides, hips and legs.  Spend extra time on the hands, feet, and ears.  Using alternating pressure on even just these areas can help your entire body to feel better.
Next tightening your entire body up as much as you can, hold it, and then completely relax your body.  This method is great for specific areas as well. This allows for a more spacious feeling in the body.
Stretch and allow your joints to move in all directions as best you can. This will help keep your range of motion. Make sure you listen to your body and never push beyond its limits."
For more information on these techniques or to schedule an appointment soon, head to http://www.kristyturner.com/ or call 740) 622-6330.
Don't Forget Your Skin
And finally on our tips on Self Care in Quarantine, we talk about your skin.  Your skin is your largest organ on your body, so we don't want to forget that while you are at home staying safe.  We asked Jade Hasseman, from The Design Salon and Spa about how to take care of your skin in quarantine.  She said that a simple routine in the morning and the evening can really be a great place to start.
Hasseman recommends starting in this order, "Cleanser, toner, serums, spot treatment (as needed), eye cream, moisturizer, SPF, and makeup.  I also recommend that 2 to 3 times a week you exfoliate and mask! I know this can be a lot at first, so take it one at a time."
If you want more information on Skincare while staying home, you can email Hasseman at [email protected]  You can also book an appointment online here for when the quarantine is lifted.
Thanks for reading at Ohio's Heart and learning about Self Care in Quarantine.  Please make sure to book mark the website, and if you want to see how some business owners are managing the crisis, head here.