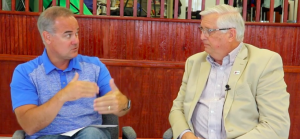 It's time for our Coshocton Conversations video release with Mayoral Candidate (and current Mayor of Coshocton), Steve Mercer.
Before sharing, let's revisit the previous blog post announcing why we decided to produce these pieces of content.
"The goal of this special edition of Coshocton Conversations is to give voters a platform where they can get to know each candidate and make an informed decision for the future of the community.  We are honored and excited that both candidates agreed to take part. We provided each candidate with the questions in advance and we did our best to keep the questions very similar.  The idea is to create an unbiased look at the candidates."
To read the full blog post, click here.
One of the featured questions in the interview was "Where do you see Coshocton in four years?"
Steve Mercer replied: Well, for one, I would like to think that Main Street will have a different appearance. What the snowballer has started, other people will join in and I know at least one other company that is in the process of rehabbing building on Main Street. So, I see that as working. I think that success breed success. Some people see something going on and say "wow, this is worth investing in." Now is the time for entrepreneurs to step forward and buy low to sell high.
Coshocton Conversations: Mayoral Candidate Steve Mercer (2019)
Click here to visit Steve Mercer for Mayor Facebook Page.
Ohio's Heart (OhiosHeart.com) is an an online media company focusing on the heart of Ohio.  Focused around the area of 77 and 70, the heart will cover an otherwise under-served area in Ohio.  Ohio's Heart will focus on sharing positivity, kindness, goodwill and the many things that make this area special.  The stated goal is to "make positivity louder" in the area.