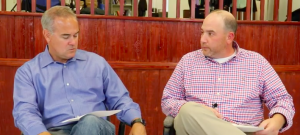 It's time for our first Coshocton Conversations video release of Mayoral Candidate, Mark Mills.
Before sharing, let's revisit the previous blog post announcing why we decided to produce these pieces of content.
"The goal of this special edition of Coshocton Conversations is to give voters a platform where they can get to know each candidate and make an informed decision for the future of the community.  We are honored and excited that both candidates agreed to take part. We provided each candidate with the questions in advance and we did our best to keep the questions very similar.  The idea is to create an unbiased look at the candidates."
To read the full blog post, click here.
One of the featured questions in the interview was "Where do you see Coshocton in four years?"
Mark Mills replied: I see better infrastructure, a comprehensive ongoing maintenance strategy on how to improve the issues instead of putting a cone or a barrel on it. We have priorities. I think we can have an app and this is where technology ties into the whole city and where we are going with the direction. Staffing wise, we don't just have people showing up for work, they know exactly where they need to be, what they need to be doing, and really no surprises. Once again, run the program. If the program isn't working, let's figure out ways to improve the program by listening to employees and residents.
Coshocton Conversations: Mayoral Candidate Mark Mills (2019)
Click here to visit Mark Mills for Mayor Facebook Page.
Ohio's Heart (OhiosHeart.com) is an an online media company focusing on the heart of Ohio.  Focused around the area of 77 and 70, the heart will cover an otherwise under-served area in Ohio.  Ohio's Heart will focus on sharing positivity, kindness, goodwill and the many things that make this area special.  The stated goal is to "make positivity louder" in the area.