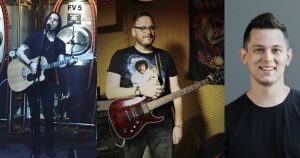 The Ohio's heart area is known to be rich in many industries.   From manufacturing to agriculture to tourism, the region has a lot to offer. But one of the richest talent beds the area offers is in the realm of musicians. Anywhere you go in the area, you're guaranteed to find a spot to grab a drink and listen to a talented performer play.
We are proud of our local musicians, not only for playing out, but for the number of them releasing recorded music as well. . With the improvements in the process, mixed with new digital innovations, the ability to record has never been more accessible to independent musicians. With so many people tinkering in their offices with different home studio set ups, and studio time becoming more and more affordable, a lot of musicians are not only working to put something out, they're putting out their best.
At Ohio's Heart, we thought it would be a great idea for us to showcase some of the local musicians.  Give everybody a listen, and if you like them, give them a follow and a like!
Evan Abood – Red Sea
Evan's strong vocal performances and deeply personal lyrics give his music a very raw and intimate feel. Focusing influences from multiple artist from the early 90s mix with his own style of writing, playing and singing Evan comes out with a very unique and amazing style.
The Red Sea, below, show's how well he mixes multiple different influences from multiple time periods and comes out with something wholly unique:
For more information on Evan Abood, head to his website here.
Jason Pendola – Not Yet Written
Jason mixes influences artists of the seventies and eighties to create very large musical arrangements that show you something new every time you hear it. In "Not Yet Written" Jason has composed a moody, high energy song fusing synth arrangements that harken to the moody sci-fi movies of the 80's with masterful guitar rock song composition to make a piece of music that keeps you engaged in the catchiness of the song, but throws you with pieces of interest to surprise you. Not to mention the fact that the man can shred.
You can find more information on the Jason Pendola Band here.
Sam Massey – "Here"
There's a special peace that comes over you when the chorus hits on this song that presents a warm message of hope in a well arranged, rootsy yet atmospheric song from the heart. Beautifully written vocal arrangements and percussion show a mastery of song writing, and instrumentation. The production of the track and video are spot on, as well.
Find Sam Massey on Facebook here.
Joshua Cody Williams – A Love Alive
The guitar hits you right at the beginning of this song, pulling you in. The driving melody gets stronger as the tune progresses…and we love the transition to an acoustic sound at around 2:39.  Josh is a gifted artist in many ways…and his first released song in nearly 10 years shows it!
You can connect with Josh Williams in many places, just go here to learn more.
Here at Ohio's Heart, we love to celebrate the creative spirit in our area. If you are a musician or artist or in other way creative, and would like to see that discussed here on our site, please email us at [email protected] to submit your work to be shared on in this feature!