We've all heard the "There's nothing to do around here" story, but lets face it: There's plenty to do if you look around!
We have compiled a list of events happening right here in Ohio's Heart to keep you busy all summer long!

The first stop on our list is "Something's Brewing" at Hannah Marie's in Coshocton, Ohio. This event is Thursday, July 18th from 6-10pm. Here you'll find LIVE music performed by local artists in an intimate setting. There will be individual acoustic sets. This is a BYOB event with full menu from Hannah Marie's will be available. Click here for more information.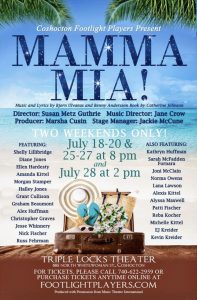 Second on our list is "Mamma Mia!" presented by the Coshocton Footlight Players. This event runs for two weeks only in July. The dates are July 18, 19 and 20th at 8pm, as well as July 25, 26, and 27th with a matinee on the 28th at 2pm. Tickets are available from their website.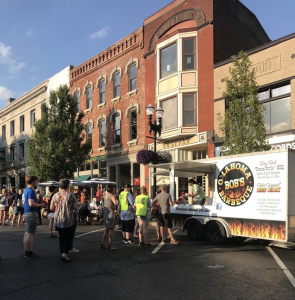 The third stop to add to your calendar is "Taste of Downtown Wooster" sponsored by Farmers National Bank. This event runs on Thursday, July 25th from 6-9pm in downtown Wooster. There will be various live musicians from the Sounds of Downtown music series and a beer/wine garden. Entry to this event is FREE.
For more information on this event, please contact Robin at Main Street Wooster at 330-262-6222, or visit their Facebook event page.

The fourth event on our list is a Civil War Reenactment on the Mighty Muskingum river located in Zanesville, Ohio on board the Lorena Sternwheeler, along the riverbank, and during the Encampment at Riverside Park!  This event takes place Saturday, July 27th from 10-11:30am, 2-3:30pm and 4-5:30pm. The cost is $15 per person and space is limited to the first 50 reservations. Call 740-455-8282 or 800-743-2303 for reservations. Click here to view the Facebook event.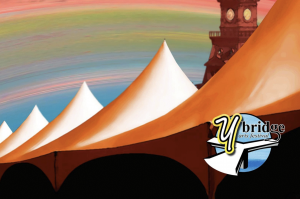 Stop five is the 2019 Y-Bridge Arts Festival located in Zanesville, Ohio! This event takes place August 2nd at 2pm and on August 3rd at 11am. Come experience painting, pottery, glass blowers, weavers and so much more! This event gives patrons an opportunity to view and purchase artwork from both local artists and artisans. There are activities for the kids and fun for everyone! You can learn more here.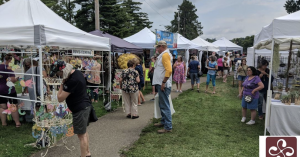 Coming in at 6th on our list of events happening in Ohio's Heart is the 50th Salt Fork Arts and Crafts Festival located at the Cambridge City Park in Cambridge, Ohio. This festival showcases high-quality art such as painting, pottery, metal work, photography and more! Between 90-100 artists come from all over the United States for this 3-day event. The following dates and times for this event are Friday, August 9th at 12pm, August 10th at 10am, and August 11th at 10am. This event can be followed on Facebook.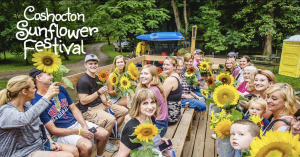 It wouldn't be summer without sunflowers! Coshocton Sunflower Festival is happening on Friday, August 16th at 4pm, Saturday, August 17th at 10am, and Sunday, August 18th at 12pm. Coshocton Sunflower Festival features over 3 acres and 20 varieties of sunflowers from 2ft to 12ft! The Sunflower Festival is an experience. All guests park at the new corn maze entrance. Each ticket includes a wagon ride to the field of sunflowers. Guests spend as much time taking pictures, exploring around the field, and reading informational signs as they like. Each ticket includes one 'stem' or LIVE cut sunflower. Parking is FREE. To learn more, visit their Facebook page.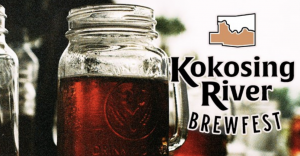 Stop eight is the Kokosing River BrewFest located in Mount Vernon, Ohio. This event is scheduled for August 24th from 1-10pm. If you're looking for some summer fun then make plans to visit the Kokosing River BrewFest! This event features craft beer, great music and local food. Come celebrate local living with the people you know in downtown Mount Vernon! You can find tickets to this event here.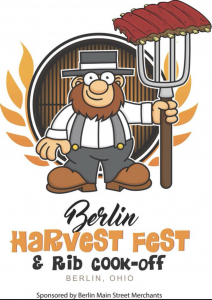 We promise stop nine will be fine when you visit the Berlin Harvest Fest and Rib Cook Off located in Berlin, Ohio. This is a 2-day event September 6th and 7th. On Friday, enjoy the kickoff festivities with food and live music. On Saturday, enjoy a day full of amazing food, live entertainment, kids activities and a parade at 6pm to end the day. You can find more information on this event via Facebook.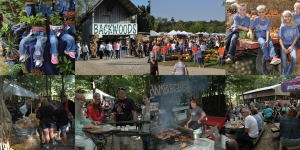 It wouldn't be a complete list of summer activities if we didn't include a stop to the 2019 Backwoods Fest located in Thornville, Ohio. This event runs Friday, September 20th 8-6pm, Saturday, September 21st 8-6pm and Sunday, Septmeber 22nd 8-5pm. This festival features over 300 vendors, over 30 different kinds of food, and 3 days of bluegrass music! For directions and more information, you can visit their website here.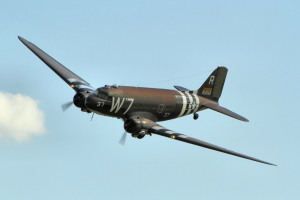 Our final stop is sure to please! the EAA (Experimental Aircraft Association) is hosting the 7th Annual Fly-In and Car Show at Zanesville Municipal Airport (ZZV) in Zanesville, Ohio! This event commemorates the 75th anniversary of D-Day. Static displays, homemade breakfast and lunch, car show, model engine show, the Schubach Big Band playing 40s/50s hits, and more. Participation plaques for all aircraft and vehicles.This event features the historically significant C-47 "Whisky 7" which will be giving rides for $95/person. This is a great deal to fly in a piece of living war history that dropped troops on target on D-Day. All veterans and active duty tour the aircraft for free. FOOD, FRIENDS, and FUN for all ages. To learn more about this event, please visit their Facebook page.
This is just a short list of the many activities happening in Ohio's Heart. If you ever hear someone say "there's nothing to do around here," be sure to share this and change their mind. This list is certain to keep you busy all summer long. If you're looking for more events and festivals outside of Ohio's Heart, here is a great list of events happening around Ohio!
P.S. Did you hear about Dresden and Company? Click here to learn about how Dresden and Company is bringing basket-making back to Ohio!